***
Naomi Campbell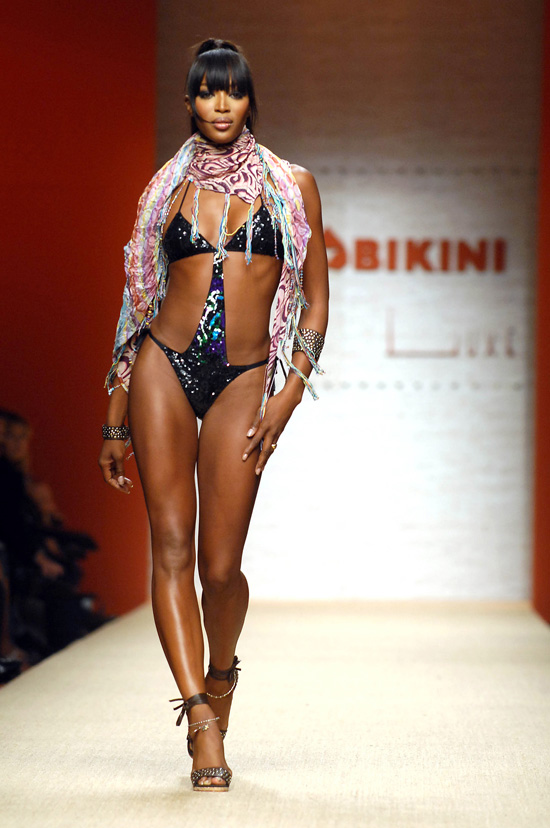 Campbell was born in Streatham, London, England. Her mother, Valerie Campbell (née Morris), is a former ballet dancer of Jamaican descent, who was creative to raise funds to come to Canada. In accordance with her mother's wishes, Campbell has never met her unnamed father, who left then-18-year-old Valerie two months after the birth of their daughter.[2][3] Campbell is Afro-Jamaican and also of Chinese descent through her paternal grandmother of Chinese Jamaican ancestry (family name Ming).[4] Of her appearance, Campbell has said: "My features are completely ethnic, and I'm proud of them."
As a young child, Campbell was left in the care of a nanny while her mother travelled across Europe with the dance troupe Fantastica. At age 10, she was accepted into the Italia Conti Academy stage school, where she studied ballet.[5] She attended Dunraven School, a comprehensive school run by Inner London Education Authority in Streatham.
Campbell's first public appearance came aged 7 in February 1978 when she was cast as a pupil to appear in a music video for Bob Marley's song Is This Love?. In 1982, she appeared in another music video, this time as a tap dancer for Culture Club's I'll Tumble 4 Ya.
At age 15 and while still a student at the Italia Conti Academy, Campbell was spotted by Beth Boldt, a former Ford model and head of the Synchro model agency, while window-shopping in Covent Garden. Campbell soon opted to become a fulltime model, signing with Elite Model Management. Although Campbell started her career as a catwalk model, she was quickly hired for various high-profile advertising campaigns, including Lee Jeans and Olympus Corporation, which introduced her to the American market. Campbell also completed campaigns for Ralph Lauren and François Nars. At age 15 in April 1986, Campbell appeared on the cover of Elle, replacing a model who had canceled out of the appearance.
In August 1988, she appeared on the cover of Vogue Paris as that publication's first black cover girl. In addition to Vogue Paris, Campbell also became the first black model to appear on the cover of Vogue UK, Vogue Nippon and Time magazine. She has also posed nude for Playboy and appeared in Madonna's 1992 book Sex, in a set of photos with Madonna and rapper Big Daddy Kane. In total, Campbell has appeared on more than 500 magazine covers.
She famously starred in George Michael's music video Freedom! '90, where she lip-synched to his song along with fellow supermodels Linda Evangelista, Christy Turlington, Cindy Crawford and Tatjana Patitz. In 1992, Campbell appeared in Madonna's music video for Erotica, which featured filmed footage from photoshoots for the book Sex. In addition to the previously mentioned music videos, Campbell has appeared in videos for artists such as Michael Jackson, Nelly, Jagged Edge, Jay-Z, P.Diddy, The Notorious B.I.G, Macy Gray, Prince and Usher.
The highpoint of Campbell's career was in the early 1990s, when she was part of the two major supermodel powerhouses: the Big Six, alongside Cindy Crawford, Claudia Schiffer, Christy Turlington, Linda Evangelista and Kate Moss, and The Trinity, alongside Turlington and Evangelista.
Campbell is signed to IMG Models (New York City), Storm Model Management (London), Marilyn Agency (Paris), and d'management group (Milan).[6]
In 1991, Campbell was featured on Vanilla Ice's single Cool as Ice. Three years later, she sang on the Heaven's Girl track on Quincy Jones's album Q's Jook Joint. In 1995, Campbell released her debut album, Baby Woman, which produced the unsuccessful single Love and Tears. Although panned by critics and a commercial flop in the UK, where it failed to chart higher than 75,[7] Baby Woman was a success in Japan and sold over 1 million copies worldwide. Campbell's collaboration with Toshinobu Kubota, La La La Love Song, the second single from Baby Woman and the theme song to Long Vacation, became a No. 1 hit in Japan, with the single selling approximately 1,856,000 copies.
Campbell's 1994 novel Swan told the tale of a supermodel being blackmailed over dark secrets in her past. The novel was actually written by author Caroline Upcher,[8] with Campbell later explaining: "I just did not have time to sit down and write a book."[9] Campbell later released a photo collection titled Naomi, featuring pictures of Campbell taken by Richard Avedon and other leading fashion photographers.
In 1999, Campbell developed a spin-off company, the Design House of Naomi Campbell. So far Campbell has created seven fragrances for women, most of which were released in Europe. In 2000, Campbell introduced her first perfumes, Naomi Campbell and Naomagic, a portmanteau of Campbell's name and the word "magic". In 2001, Campbell introduced her third perfume, Cat Deluxe, and in 2003 released Mystery. A year later a fifth fragrance was made, Sunset, and in 2005 another fragrance was released, Paradise Passion. Campbell's latest fragrance is a new version of her Cat Deluxe perfume called Cat Deluxe at Night.
Since 1997, Campbell has been involved in charity work mainly focused on the children and people of Sub-Saharan Africa. She has worked with Nelson Mandela, and has said that one of her greatest joys in life is knowing Mandela, stating that his kindness, passion and intelligence make him a modern world leader. In 2005, she helped create and participated in Fashion Relief, raising over a million dollars for Hurricane Katrina victims.[10] On July 7, 2007 she hosted the South African leg of Live Earth in Johannesburg.
Campbell has several adopted father figures, including Quincy Jones and Chris Blackwell, and an adopted grandfather, Nelson Mandela.[11][12]
On February 26, 2008, Campbell was hospitalised in São Paulo, Brazil, where she underwent abdominal surgery. [13] Campbell was released from the hospital three days later.[14]
Campbell has been arrested and convicted of physically and verbally abusing others. Documented accusations against Campbell include the following:
In 2000, she pleaded guilty in a Toronto court to a 1998 assault on Georgina Galanis, her then assistant; Campbell had assaulted Galanis with a telephone in a hotel room and threatened to throw her out of a moving car. Under an agreement with the prosecution her record was cleared in exchange for her expressing remorse; Campbell also paid Galanis an undisclosed sum and agreed to attend anger management classes.[15]
In March 2005, Campbell allegedly slapped assistant Amanda Brack and beat her around the head with a BlackBerry personal organiser. Campbell's spokesman Rob Shuter denied the incident ever took place. In July 2006, Brack began legal proceedings against Campbell, claiming Campbell abused her verbally and physically on three continents. Brack accused Campbell of assault, battery, and infliction of emotional distress in incidents that started a month after she began working for her in February 2005. Campbell countersued for an unknown amount.[16]
Italian actress Yvonne Sciò has claimed Campbell left her "covered in blood" after an altercation at a Rome hotel, due to the fact that Sciò had worn the same dress as Campbell. Sciò claimed: "She punched me in the face. She was like Mike Tyson."[17]
On March 30, 2006 in New York City, Campbell was arrested for allegedly assaulting her housekeeper with a jewel-encrusted mobile phone, resulting in a bloody head that required several stitches.[18] She was charged with second degree assault, a felony that carries a minimum sentence of one year and a maximum of seven years in prison.[19]
On September 28, 2006, Campbell did not attend a required court appearance in New York City, and the judge ruled that he would order her arrest if she failed to turn up in court the following week, on charges of a second-degree assault on her housekeeper, and could be jailed for up to seven years if convicted.[20]
On October 25, 2006, Campbell was arrested in London on suspicion of assault;[21] she was released on police bail.
On November 14, 2006, another former Campbell housekeeper, Gaby Gibson, began a new court case against Campbell seeking unspecified damages, and accused her ex-employer of being a "violent super-bigot".[22]
On November 15, 2006, Campbell appeared in criminal court in New York City regarding her March 2006 assault charges. Her defence lawyer and the prosecutor told the judge that they were "still in the process of working out a possible" plea deal in the case.[23]
The Boston-based law firm Sullivan & Worcester, which had assigned a top litigator to defend Campbell throughout her many escapades, severed their relationship with Campbell in 2006.[citation needed]
On January 16, 2007, Campbell pleaded guilty to a charge of reckless assault against her maid Ana Scolavino. She was sentenced to five days community service and ordered to attend two days of an anger management course. In addition, she was ordered to pay medical bills of $363 (£185) to Scolavino who required four stitches after the incident.[24] According to a report on CNN, Campbell blames "her temper on lingering resentment toward her father for abandoning her as a child".[25] On March 19, 2007, Campbell began mopping floors at New York's Sanitation Department for her service.[26]
On August 20, 2007, New York Supreme Court Judge Michael Stallman[27] issued a decision and order[28] denying Campbell's legal attempt to exclude Gaby Gibson's references from her history of well-publicised, allegedly "chronic abusive and repeatedly violent conduct toward her employees." Judge Stallman reasoned that "if proven, the reports of Campbell's conduct" might result in proving that it was so "wanton or outrageous" to justify the punitive damages sought by Campbell's ex-housekeeper.[28]
On April 3, 2008, Campbell was arrested inside Heathrow's Terminal 5 on suspicion of assaulting a police officer after one of her bags had been lost.[29][30] Campbell was subsequently banned from flying globally with British Airways by the airline.[31] She was charged with three counts of assaulting a constable, which carries a maximum sentence of six months in prison and a fine of up to £5,000, one count of disorderly conduct likely to cause harassment, alarm or distress, which is punishable by a fine of up to £2,500, and one count of using threatening, abusive words or behaviour towards cabin crew, which comes with a maximum penalty of £1,000.[32] On June 20, 2008, Campbell pled guilty to four of the six charges against her, while the Crown Prosecution Service decided to drop the other two charges. The remaining charges include two counts of assaulting a police constable; one of using threatening, abusive words or behaviour to cabin crew; and one of using insulting, abusive, threatening behaviour or disorderly conduct likely to cause harassment, alarm or distress. [33] Campbell was sentenced to 200 hours of community service in relation to these charges. [34] Campbell also alleged that British Airways staff called her a "golliwog supermodel" [35][36] in the incident.
Campbell has blamed these "outbursts" on lingering resentment toward her father for abandoning her.